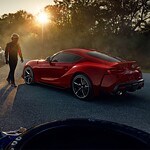 With a new design and performance-optimized engine, the Toyota GR Supra is a riot to drive. The fast acceleration, robust automatic transmission, and amazing fuel efficiency make this vehicle one of the best to drive on the road. There are separate drive modes you can choose, which results in a balanced sports car that can still make aggressive lane changes and passing moves. It's easy to drive for an everyday vehicle, but you can also get more performance out of it when you need to.
The throttle and gear changes make you feel like you're in a Ferrari, but it's a 3.0-liter inline six-cylinder twin-line supercharged engine that's causing those robust roaring noises. It's rated for 335 horsepower. The engine is married to a tough powertrain with an eight-speed automatic transmission. You can get paddle shifters if you want to override the automatic transmission.
Luxury sports cars are our favorites. Want to see what selection we have available? You can stop by our Wappingers Falls location and see the latest deals when you come in for a test drive at DCH Wappingers Falls Toyota.