Awards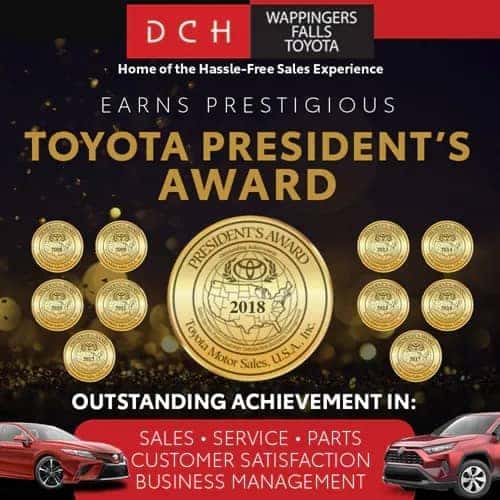 President's Award
DCH Wappingers Falls Toyota wins the Prestigious President's Award
March 2018 & 19
Every year Toyota Motor Sales, USA honors their outstanding dealerships with the prestigious President's Award. It is the highest honor that can be achieved by a Toyota dealership. In order to qualify as a President's Award winner, Toyota dealerships must excel in a number of different categories, including but not limited to, Sales Satisfaction, Service Satisfaction, Market Share attainment, Vehicle Delivery Excellence, and Employee Training & Certification. Dealerships must meet or exceed these standards in all areas of dealership performance in order to qualify for President's Award.
DCH Wappingers Falls Toyota met all the requirements for the award this year and is a multi-time recipient. Less than 20% of the over 1,200 Toyota dealers nationally earn the prestigious President's Award.
Our goal is to ensure that customers are satisfied, not only at the time of purchase, but for as long as they own their vehicle. Our Hassle Free sales process, combined with our "Customers for Life" mindset, ensure each customer receives the finest level of service in the industry.
It's an honor to receive the prestigious President's Award, says Lee Burns, DCH Wappinger Falls Toyota's General Manager. However, we could not have earned the President's Award on our own. We would like to thank each of our nearly 100 employees for their dedication and commitment, as well as our valued customers for supporting us.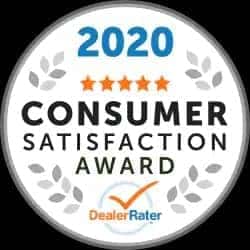 DCH Wappingers Falls Toyota is proud to have received a number of awards that recognize the exceptional sales and service at our new and used car dealership.
We are multi-time recipients of the Toyota President's Award for overall performance and customer satisfaction – the most prestigious award a Toyota dealer can receive.
DCH Wappingers Falls Toyota has also been named the New York Toyota Dealer of the Year by Dealer Rater in 2012 and 2014. This award is given for distinction in outstanding customer service based upon customers' reviews of their dealership experiences shared on DealerRater's web site.
And that just to name a few of the awards we've received. Come in or contact us to experience for yourself why DCH Wappingers Falls Toyota is such an award winning new and used Toyota dealership.